YouTube Business Marketing Tool
Rather than reading lengthy articles it is always wise and time-saving to watch informative videos. Keeping in mind the startups and their urge to establish their business on a global platform, YouTube business marketing tool is very effective for all types of industries especially startups.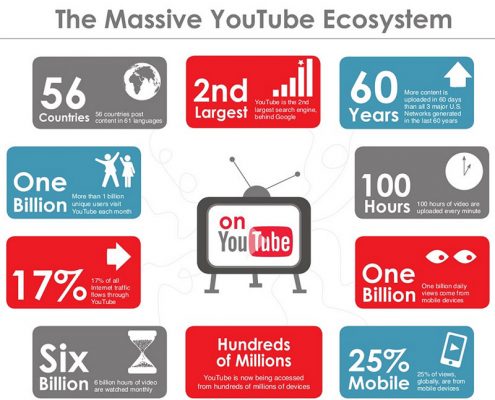 YouTube has approximately 1 million visitors every month. Hearing this statistic I am sure if you are not YouTube, you are definitely going to think again. It is a perfect platform to show your expertise, expand your reach and get in touch with your targeted audience.
Here are the various reasons YouTube serves as one of the best marketing tools.
Exhibit your products/services- Explainer videos, presentations, and webinars are some of the latest ways which brands are using in order to showcase their products and services.
If you are really doubtful about this, the most appropriate way is to watch the uploaded videos of different brands and get a clear understanding of how to proceed with it.
Use effective keywords for your video so that you can get desired traffic to your video.
Social Media Sharing- YouTube provides the ease to share the videos on various social media networking websites like Facebook, Instagram, Whatsapp and linkedIn.
According to the research, the average viewing time of YouTube video on mobile has raised up to 40 minutes. The power and craze can be identified from this stat.
The more clicks it gets, higher will be the rank and greater will be the traffic.
Grabbing Attention- YouTube has been fascinating its viewers from its usability. It is known as the second largest search engine on the web.
Every day almost three million videos are being watched on YouTube and are definitely not the source to miss out for any type of business.
Viral–Because of the ease, with which the YouTube video can be shared on websites and other social media platforms, making it viral. YouTube videos are generally transferred from person to person increasing the number of shares and likes which can be very helpful in increasing leads.
Builds reputation and recognition– Queries and doubts are explained much better in a video than in the text.
When the user has difficulty in using the products, the explainer videos on YouTube can help not only your customer but also improve your recognition by increasing customer satisfaction. Often when the user finds your products/ services videos on your brand's reputation is enhanced.
Engaging and Interactive- Since a number of people comments and likes on the videos, it makes the activity engaging and interactive. YouTube provides the facility of leaving a feedback and getting your queries cleared.
This can the viewers build a trust for your brand and make them believe of the genuine concern of the brand for their customers.
Search Engine Ranking- Google owns YouTube and because of its extensive use as a social media communication medium and as a search engine, it is ranked higher in Google search results. This can help the businesses improve their SEO rank and increase traffic to their website.
Before uploading your video on YouTube make sure to:
Analyze your competitors- Since 300 videos are being uploaded on YouTube every minute, therefore, becomes very important to analyze your competition. YouTube analysis tools offer you the facility of monitoring your video.
Other than calculating your statistics depending on the dates and the views received, you also get an advantage to know how many clicked on your video and for how much time they viewed it.
Bird Song Analytics
Bird Song Analytics is an extensive feature which helps to study your competition. It is a paid service in which just by giving the channel name, the entire report of your competition is available.
Depending on your requirement, you can get the details of on which day and time your opposition received maximum likes, comments etc.
Fan Finder
Have you noticed those skip ads that appear for 5 seconds before the video. Fan Finder makes this ad available for you without any cost. It is yet another program which helps you to promote your business on YouTube in the best way.
Using this program you can submit up to five channel ads. Create a short video clip and submit it to Fan Finder. If accepted, this ad would be shown in a number of YouTube Videos promoting your products.
However, it is only for 5 seconds, if the viewer clicks the ad before 5 seconds, good for you or the User presses click to avoid it.
Using these tools not only your ups and down even your competitors can be analyzed easily which is very beneficial to get more leads.
YouTube Streaming Live
Using Google Hangout on Air, YouTube business marketing tool gives you the service of live streaming. By following the below-mentioned procedure
Click on Live Streaming Events
Click New Live Event
Choose Quick (Google Hangouts on Air)
Give a title to live stream
Click Go live now or select to schedule for later
YouTube has helped many businesses establish their stand in the world and has served the business owners with its versatile feature to grow their business on the global platform and hope to be used as an effective marketing strategy for years to come
https://avainfotech.com/wp-content/uploads/2016/11/youtube.jpg
349
495
admin
https://avainfotech.com/wp-content/uploads/2016/10/logo1.png
admin
2016-11-21 07:03:43
2017-03-17 06:26:18
YouTube Business Marketing Tool