students placement process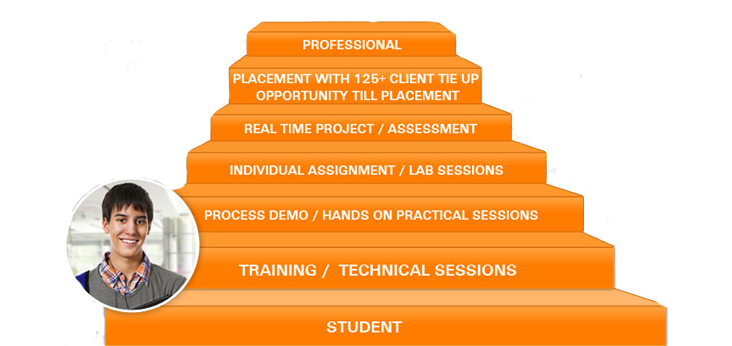 AVA infotech believes in providing the best training and job opportunity to deserving and outstanding trainees. To help our trainees with practical work experience and world standard job training, we offer training and placement services.
We select the best students from B. Tech, M. Tech, MCA, BCA, B. Sc(IT) and M. Sc(IT) into our program and train them to be in par with the elites of the corporate world. We make sure to engage students in advance learning, practicall experience, and live projects to sharpen their skills, capabilities and performance in the industry.
Students with good capabilities get the surety of placements with top IT companies and can also avail our in-house placement. This ensures an excellent success rate in the IT industry.
Eligibility:
Students of BTech, MTech, BCA, MCA B.Sc(IT), M. Sc (IT) And 6 month Poly-technical Diploma or equivalent are eligible to apply.
We aim to:
Hand you the best expertise in the industry of IT with professional training and job opportunities.
Course curriculum.
Our team of experts with years of industry experience make the best course content requires for a professional and advance corporate market. We provide latest equipment training to ensure the real life experience of trainees.
Hiring procedure
Our company is one of the leading web solution companies of India. This position has been obtained by designing a course of programs that deal with the latest technologies and IT solutions- Dealing with new innovations, mobile apps, word optimization, website traffic, software testing and new world IT models. Our training time and course syllabus puts emphasis on real life experience and getting trainees ready to tread in the corporate world. We teach our trainees how to advance into suitable careers of their choice and to be professionally efficient.
Hiring procedure
1. We offer attractive positions to both starters and professional people . A number of Vacancies are available in iOS developers, Web design, Graphics Designer and Business development executive positions.
2. Deserving students have a great chance of getting into the industry by joining us.
3. Another bonus point for our trainees is getting preference in the placement and hiring procedure so they can jump into the corporate world without any break or search.
4. To students who are not hired into the AVAinfotech, our excellent team of experts and consultants get you trained for landing tour dream job with other companies in the industry and AVA provides good references as well.
5. Jump start your career with a golden opportunity by joining is in the AVA Infotech!